The Kasbah in Sasebo, 1953. Went through boot camp at Great Lakes with some of these guys but their name elude me. Can anyone help?
Sasebo, 1953. Six sailors and one girl. Having fun.
Remember the sailor on the far right tried to shave with leg hair remover one time and burned his face.
Remember this picture being taken but don't remember her name.
By this time had switched from the deck force to damage control.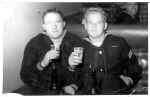 One of these gentleman is named Bill Hasket. It is written on the back of the photo.